When announcing lineups, the Rochester Red Wings often play "Love Rollercoaster". It fits this season, as the AAA Twins affiliate seemed to be on one that had highs, lows, loops,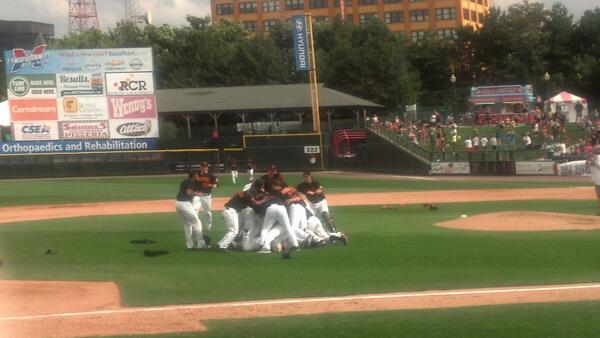 corkscrews and no shortage of screaming and yelling. And now, after a blowout 13-3 victory on the final day of the season and a stunning 1-0 extra-inning defeat by the Norfolk Tides (AAA Orioles), the Wings now have made the playoffs for the first time since 2006 by virtue of holding a tie-breaker against Norfolk.
It was by no means a sure thing. Then again, there was very little "sure" about this season. The Wings started 2-11, they were in last place as late as May 29, they were in first later in the year, only to lose both that lead and also seemingly the wild card in a late skid after their best player (Chris Colabello) and best pitcher (Andrew Albers) were called up… and then, finally, at the end, they were able to pick themselves up and get to the playoffs, with a little luck.
(Go below the jump for more)