Hello, everybody. Here's some WBC news from the last few weeks, in no particular order:
The Mexican League and the Mexican Baseball Federation continue to squabble, making it unlikely that any Mexican leaguers will partake in the qualifying. However, I've also seen some tweets that indicate that this has been solved and that Mexican League players will take part. I'll let you know when I have it cleared up.
Yovani Gallardo had said that he was going to play for the Mexican team in the qualifiers, but that was before he signed with the Orioles, so that may change. Another iffy Mexican pitcher is Julio Urias, a top prospect for the Dodgers, who has said he will skip the qualifiers if it looks like he has a good chance of making the team.
A preliminary roster for Team Nicaragua (thanks to Max Wildstein) was released. This roster has since changed (you can find how it has in some of the other items) and would be pared down to 28 anyway, but it gives you a good idea of some of the players who will be on the team: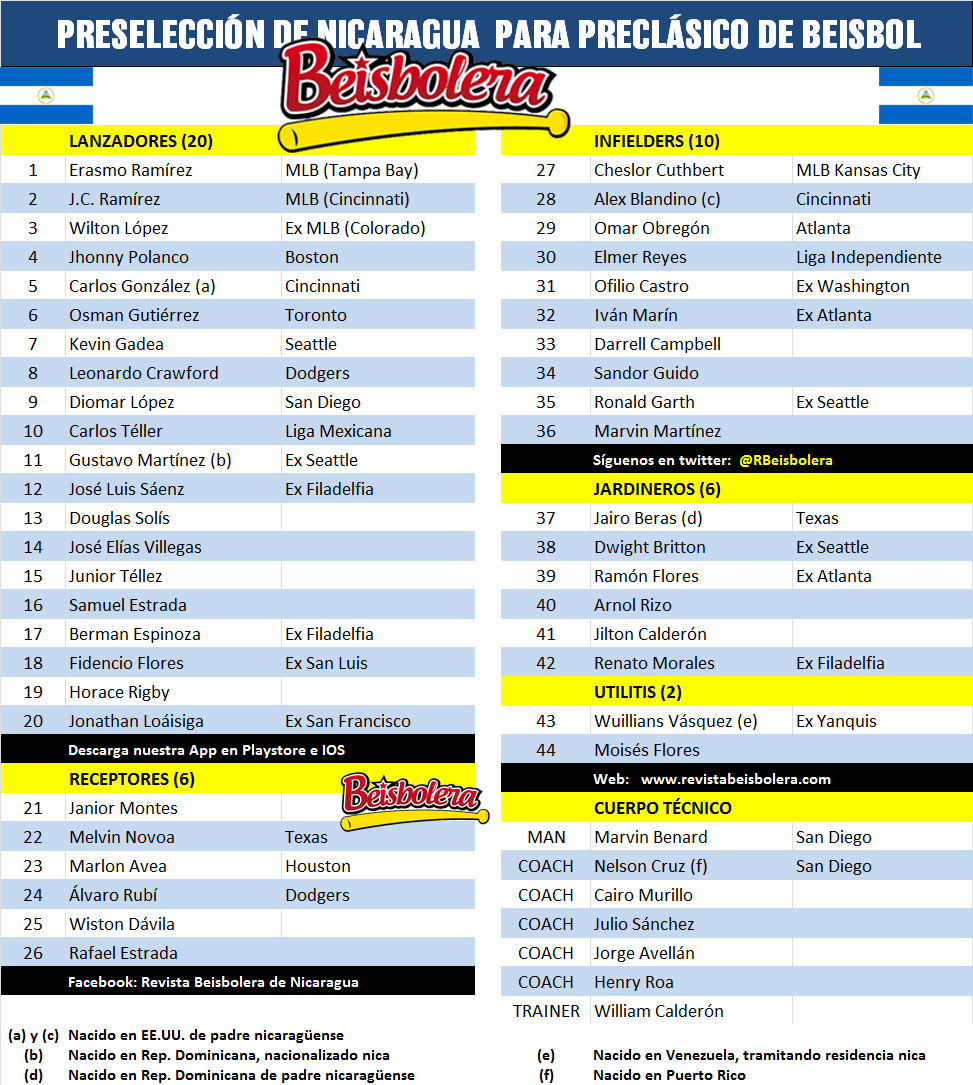 Omar Vizquel will be the manager of Team Venezuela next year. Bobby Abreu and Magglio Ordonez were candidates for the batting coach position, and it appears that Magglio won the job. Other tweets have confirmed that Eduardo Perez will be a bench coach, Roberto Espinoza will be the pitching coach, and Henry Blanco will be a bullpen coach. Also in Venezuelan news: Gregor Blanco wants to play for his country in the 2017 WBC.
The Spanish have announced their coaching staff for the upcoming qualifiers, led by Tigers Latin American director Manny Crespo.
Quebecois closing great Eric Gagne, meanwhile, will helm Team France.
Mike Griffin will manage the Czech team, while Trot Nixon (!) will be hitting coach.
Speaking of the Czechs, it appears that they will have more players with North American experience than last time thanks to players of Czech ancestry, such as John Straka, Brett Tomko, Mike Cervenak, and Alex Sogard. However, apparently Eric Sogard has been denied, unless if he hasn't. I find it much less likely that he will take part, though. The Czechs will be playing exhibitions in Arizona ahead of the qualifiers.
Donovan Solano, now in the Yankees organization, is still deciding whether he will play for Colombia in the qualifiers or if he will stay in camp. However, he is listed in a list of MLB-affiliated players who are "confirmed" for Colombia:
Peloteros de organizaciones de Grandes Ligas que están confirmados para jugar por Colombia. (vía @Beisbol2600mts) pic.twitter.com/RXbeWFd6bw

— Pinceladas del CMB (@pinceladascmb) February 26, 2016
//platform.twitter.com/widgets.js
Dilson Herrera of the Mets, as said above, will definitely suit up for Team Colombia. Others listed in the above tweet (if it doesn't show up): William Cuevas, Carlos Mario Diaz, Kevin Escorcia, Tayron Guerrero, Gregory Nappo, Jesus Posso, Mauricio Ramos, Reynaldo Rodriguez, Tito Polo, Harold Ramirez, and Carlos Vidal. Apparently a complete list for Colombia will be out on Saturday.
David Ortiz doesn't think he'll play for Team Dominican Republic next spring.
Carlos Ruiz has been authorized to play for Team Panama, which is huge, even if he isn't as good as he used to be.
Dean Kremer, a pitcher for UNLV who's parents are from Israel and who lives there during summers when he isn't playing, hopes to play for Team Israel in the WBC qualifiers.
Elmer Reyes of the Braves organization will play for Nicaragua. Wuillian Vasquez, a Venezuelan-born player who has lived and played in Nicaragua for several years while also playing in Europe, is also eligible.
The German National team will have a exhibition game against the Tijuana Toros on March 9.
Quick run-down of other players who have been confirmed in/out for certain qualifying teams (from various Twitter sources found by @MaxWildstein):
Randall Delgado is out for Panama but Andy Otero is in.
Cheslor Cuthbert is out for Nicaragua, as is Wilton Lopez, who has an injury.
Luis Guillorme is in for Spain.
–
Now, this was a lot of news. Maybe too much. And I probably missed some. And for that reason, I'm glad to say that starting now, WBC Updates will be FAR more frequent, occurring AT LEAST once a week, but at times happening on a daily or every-other-daily basis.