Canada has released the first 23 players who are officially on their provisional roster, here's a photo of the roster that they released on Twitter: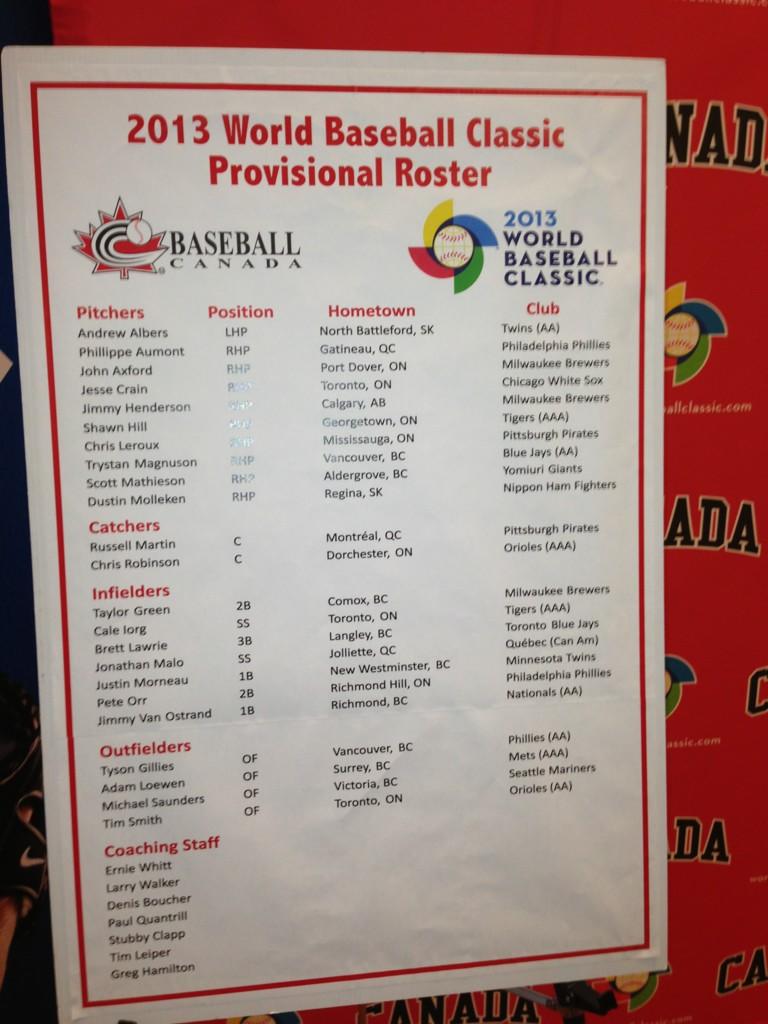 Now, a few notes on this roster:
Joey Votto is still expected to take part, he just needs to get some insurance paperwork done before it's official:
Joey Votto expected to play for Canadabut needs to work through some insurance issues. Dempster, who just signed with Red Sox, less clear

— Shi Davidi (@ShiDavidi) January 12, 2013
Ryan Dempster, as mentioned above, is less clear. He hasn't pitched in past WBCs for certain reasons but it had been hinted at that he might this time (although to the best of my knowledge he himself hadn't). While he is not on the roster as of now, he could still possibly be put on it later, as Team Canada has only released 23 of the 28 player names. However, Dempster will be heading into his first season with the Red Sox, which makes it unlikely that he will for two reasons:
1) Players (but especially pitchers) joining new teams are often less likely to take part in the WBC.
2) The Red Sox, after the grand Daisuke Matsuzaka debacle of 2009 (when he, according to some sources, hid an injury so that he could continue pitching for Team Japan), are probably the most gunshy team this side of the Yankees when it comes to the WBC, so are probably going to do everything that they are allowed to do (a club cannot unilaterally bar a player from the WBC unless they have an injury) to keep him from playing.
Anyway, continue coming to The Baseball Continuum for more WBC news in the coming days.