Hello everybody, work continues on the 2016 Baseball Continuum Blogathon for Charity benefiting Roswell Park Cancer Institute's Roswell Park Alliance Foundation, and we are now less than two weeks from the event, and about a week away from the GoFundMe page going up. Several of the guests have already sent in their pieces, and I've gotten some good possible giveaways for the Blogathon raffle as well.
So, two weeks out, I thought I'd give you a bit of a preview of some what you'll be seeing from me in the blogathon:
The 50th Bizarre Baseball Culture
Yes, the 50th installment of perhaps the Baseball Continuum's most famous (as in, some people may have actually heard of it, maybe) feature. And it's a doozy, as I'll be looking at DC Super-Stars #10, aka THE BASEBALL GAME BETWEEN DC COMICS' HEROES AND VILLAINS: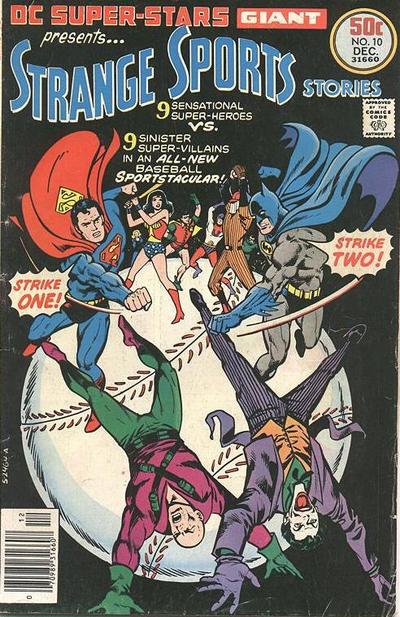 Now, this has been done before elsewhere, but it is such an iconic piece of the sub-sub-genre that is Superhero Baseball that it is the clear and obvious choice to be the fiftieth installment of Bizarre Baseball Culture. Get excited.
Breaking OOTP Episode 5: No Homers Club
Yes, Breaking OOTP will be returning as well, as I will create a world where home runs should be in very, very, very short supply, and then I will watch what happens.
International Morning
From 8 AM to 11 AM on January 29, every post (with the exception of one post to let people know what happened in the very early morning) will be about international baseball in some way, shape, or form, culminating in the first part of International Baseball Culture at 11 AM.
Red Wings Programs of the Past: 1990
The latest look at the history of the AAA Rochester Red Wings through their yearly programs will happen that night, with a look at the 1990 program. So if you ever wanted to see what David Segui looked like in 1990, this will be your chance.
First References
Diving deep into the Sporting News archives available to SABR members, I'll reveal the first time that the "Bible of Baseball" referred to certain players, stadiums, and concepts. What will I be pulling up the first references to this time? I'm not saying, as it would spoil the surprise.
A Proposal to Hollywood to create an American version of Mr. Go
Exactly what it says.
—
And, of course, more. Those are just some of the things you will see and hopefully read!